Who's excited for the Super Bowl this weekend?
Even if you're not into football, I'm pretty sure everyone can get behind sharing a tasty array of snacks with friends. The following recipes are some of my favorites to serve to company. They're all dairy-free and gluten-free, and most importantly, they're delicious!
—
This queso dip is always a hit with my friends and family– it tastes better than the version made with Velveeta! In fact, no one will guess that there's no cheese or soy-substitutes in this warm, creamy dip. It disappears fast!
—
This tasty dip gets its creaminess from ripe avocados instead of dairy. Featuring artichoke hearts, spinach and roasted red pepper, this veggie-based dip is bursting with flavor, and delicious enough to eat with a spoon!
—
This dip is a classic for any game day! Featuring layers of beans, guacamole, salsa and a homemade "cheese" sauce, it's sure to please a crowd.
—
If you need to avoid nuts, this dairy-free queso is a great alternative to the cashew-based version I mentioned above. Plus, it's properly combined when served with baked tortilla chips, so it's even easier to digest!
—
This hummus is bean-free, making it easier to digest and Paleo-friendly. It has all the flavors of traditional hummus, but packs an extra dose of vegetables with each bite!
—
If you want something sweet at the table, this caramel dip is delicious with fresh fruit! I love the creaminess that cashews add to this recipe, but they can also be omitted for a nut-free option.
—
These "cheesy" crackers were the result of a happy accident a few years ago. I tried to make a healthy Dorito-style chip, but they turned out more like Cheez-It crackers! Crisp and totally delicious.
—
8. Rosemary Sweet Potato Fries
Sweet potato fries are always a hit in our home, and adding fresh rosemary to the mix makes them taste even more gourmet! Since fries can get cold and soggy quickly, these are best served immediately from the oven with your favorite dip.
—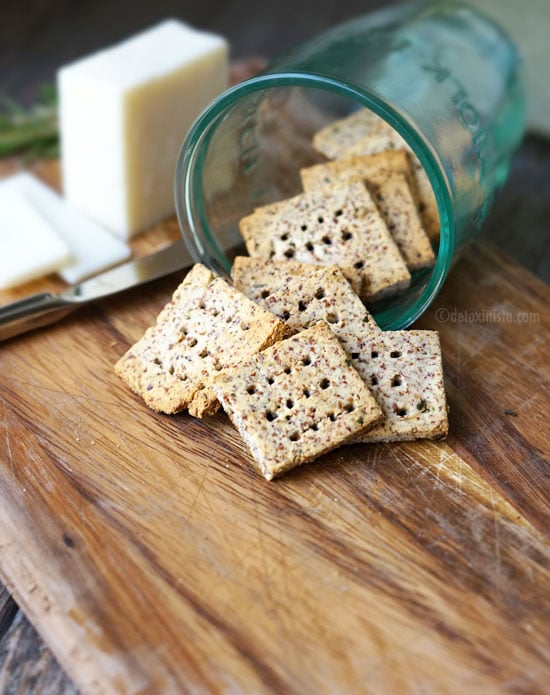 These crackers are quick and easy to prepare, using the pulp leftover from making almond milk. They are the perfect gluten-free option when you want to put out a cheese and cracker plate!
—
These chocolate cookies are rich and chewy. They remind me of traditional Chocolate "Crinkle" cookies, just without the powdered sugar on top!
—
11. No-Bake Peanut Butter Cup Bars
If you love peanut butter and chocolate, you will LOVE these easy no-bake bars! They can be easily made with almond butter, sunflower butter, or coconut butter, if you prefer, too!
—
Whether you plan on watching the Super Bowl, or maybe just the commercials, I hope you and your friends enjoy these healthier snack options!