This is the best Vegan Mac and Cheese recipe you'll ever try. It's quick to prepare, and just as creamy as the traditional version. Everyone loves it!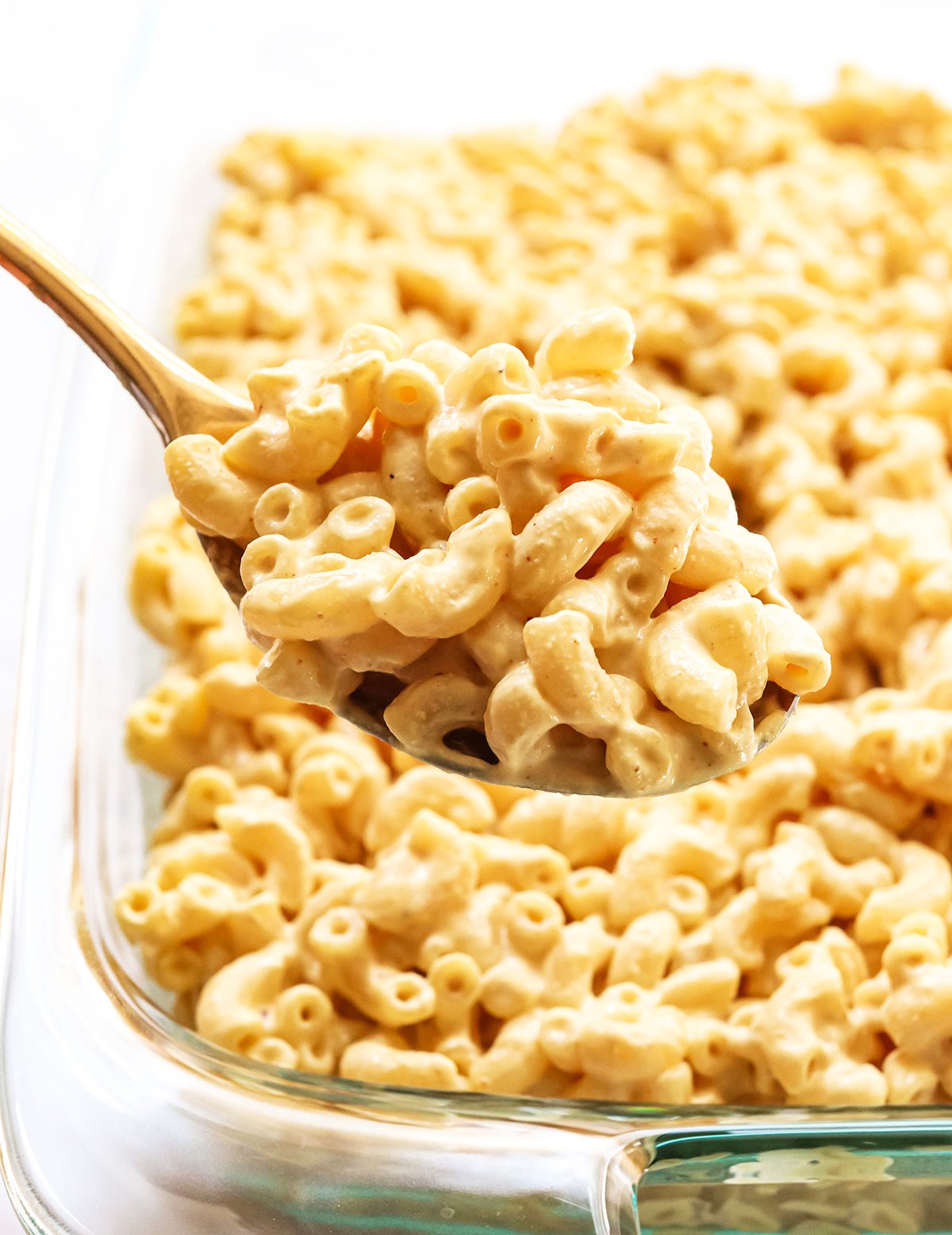 Why You'll Love It
It's fast to make. This recipe is just as quick as cooking the popular boxed version, only this one is made without dairy. While the pasta cooks, you can whip up the sauce in a blender!
The ingredients are simple. All you need is a handful of pantry ingredients, plus nutritional yeast for a "cheesy" flavor.
It's truly satisfying. When you stir this simple sauce into pasta, most people can't tell that it's not a real cheese sauce! It's perfect for those who need a dairy-free side dish to bring to a holiday party.
It's allergy-friendly. This recipe can easily be made gluten-free by using your favorite gluten-free pasta. Brown rice pasta and chickpea pasta are both easy options! If you need a cheese sauce made without cashews, try sweet potato mac and cheese or my nut-free vegan cheese sauce.
Ingredients You'll Need
What's in Vegan Mac and Cheese?
Noodles
Raw cashews
Nutritional yeast
Lemon juice
Dijon mustard
Salt
Spices
Spices like garlic powder, onion powder, and chili powder can add extra flavor to the sauce, and I like to add a pinch of turmeric for an orange color. (But that's optional!) Feel free to add a dash of smoked paprika or black pepper on top, too.
See the variation ideas below, if you'd like to try another flavor combination.
How to Make the Best Vegan Mac and Cheese
1. Cook the pasta.
Bring a large pot of salted water to a boil, and cook the pasta according to the directions on the package. Small elbow noodles will cook in just 5 to 8 minutes, while larger macaroni noodles will take closer to 10 minutes.
2. Make the sauce.
In a high-speed blender, combine the cashews, water, lemon juice, mustard, salt, nutritional yeast, and spices. Blend until very smooth.
Pro Tip: If you don't have a high speed blender, cover the cashews with 1 cup of boiled water and let them soak for 10 minutes. This should help to soften the cashews, so they will blend more smoothly. Pour the soaked cashews (along with the warm soaking water) directly into the blender, then add in the rest of the ingredients to blend.
3. Mix it together.
When the noodles are done cooking, drain them and return the warm noodles back to the large pot.
Pour the sauce into the pot, and stir over medium heat until the mac n' cheese is warmed through and the noodles are well coated in the sauce.
Adjust any seasoning to taste, adding more salt, as needed. You can also add an extra few tablespoons of water, if you'd like the sauce to have a more runny texture.
Serve this vegan mac and cheese warm, with any extra toppings you love. It's delicious with veggies added in, such as steamed broccoli or roasted butternut squash, or you can add any other toppings you love.
Leftover mac n' cheese can be stored in an airtight container in the refrigerator for up to 5 days. You may need to add an extra splash of water when you reheat it on the stove top, since the cheese sauce will thicken when chilled.
Variations
Prefer a baked Mac and Cheese? Add an extra 1/4 cup of water to this recipe, to thin out the sauce (because it will thicken when baked), then pour the cooked pasta and sauce into a greased 9-by-13-inch baking dish. For a crumb topping, stir together a 3/4 cup of breadcrumbs with a 1/4 cup of melted vegan butter and a 1/4 teaspoon salt in a small bowl, then sprinkle the mixture over the top of your mac and cheese. (Use gluten-free bread crumbs if you need to.)
Bake the casserole in an oven preheated to 350ºF for 10 minutes. When the timer goes off, turn on your oven's broiler and let the breadcrumbs brown for 1 to 2 minutes, just until the topping looks golden brown. Watch closely, so it won't burn! For a gluten-free topping, try using chopped almonds or other crushed nuts, instead.
Green Chile Mac and Cheese. Replace a 1/2 cup of water with a 4-ounce can of green chilies. You can also add in a few slices of jarred jalapenos, for extra flavor and spice. (This is inspired by vegan nacho cheese, which is my favorite vegan cheese dip ever!)
Miso Mac and Cheese. Did you know that white miso tastes similar to Parmesan cheese? If you don't have nutritional yeast on hand, you can add a teaspoon of white miso to this recipe to help bring out all of the cheesy flavorings in this recipe. It's always a good idea to start small with miso, as it can start to overpower a recipe quickly, so start with just a 1/2 teaspoon if you aren't sure about the flavor.
Frequently Asked Questions
Can I make this nut-free? You can experiment with using hemp hearts instead of cashews, if you like. (This works great for vegan ranch dressing, so it might work here, too.) Otherwise try Sweet Potato Mac and Cheese, as an alternative.
Can I use milk instead of water? Of course! I recommend using a non-dairy milk that has no added sweetener, but you can use oat milk, almond milk, or even soy milk if you'd like to add extra protein to this recipe. I don't recommend using coconut milk, unless you don't mind the added coconut flavor.
Vegan Mac and Cheese (Fan Favorite!)
Vegan Mac and Cheese is just as quick to prepare as the boxed version! Tossed with a flavorful & creamy sauce, everyone loves this dairy-free alternative.
Equipment
Ingredients
1 1/2

cups

raw cashews

3

tablespoons

fresh lemon juice

¾

cup

water

1 1/2

teaspoons

fine sea salt

1/4

cup

nutritional yeast

1/2

teaspoon

chili powder

1/4

teaspoon

garlic powder

(or ½ clove garlic)

1/4

teaspoon

turmeric

pinch of cayenne pepper

(optional)

1/2

teaspoon

spicy brown mustard

(optional)

16

ounces

Elbow or shell pasta of choice

(gluten-free, if needed)
Instructions
Prepare the pasta according to package directions. Be sure to add a tablespoon of salt to the cooking water, so the noodles will be well seasoned.

While the pasta is cooking, combine the cashews, lemon juice, water, salt, nutritional yeast, chili powder, garlic, turmeric, cayenne (if using), and mustard in a high speed blender and blend until silky smooth. If the mixture is too thick, add another tablespoon or two of water and blend again.

Once the pasta is tender, drain and return it to the pot. Stir in the cheese sauce, and adjust any seasoning to taste. Serve warm, with any toppings or add-ins you like, such as steamed broccoli.

Leftovers can be stored in an airtight container in the fridge for up to 1 week. The mac and cheese will thicken when chilled, so you may need to add a splash of water when reheating it on the stove top, plus an extra sprinkle of salt.
Notes
Nutrition information is for roughly 1 cup of prepared mac and cheese. This information is automatically calculated, and is just an estimate, not a guarantee.
Don't have a high speed blender? Use 1 cup of boiled water in that case, and let the cashews soak in the hot water for at least 10 minutes before blending. This will help them break down more smoothly.
Looking for a nut-free recipe? Try Southwest Sweet Potato Mac & Cheese, or my nut-free vegan cheese sauce.
Nutrition
Calories:
352
kcal
,
Carbohydrates:
51
g
,
Protein:
13
g
,
Fat:
12
g
,
Saturated Fat:
2
g
,
Polyunsaturated Fat:
2
g
,
Monounsaturated Fat:
6
g
,
Sodium:
449
mg
,
Potassium:
325
mg
,
Fiber:
3
g
,
Sugar:
3
g
,
Vitamin A:
38
IU
,
Vitamin C:
2
mg
,
Calcium:
23
mg
,
Iron:
3
mg
Vegan Mac and Cheese Nutrition per serving (calculated with pasta): Calories 350, Fat:11g, Carbohydrates: 50g, Fiber: 3g, Protein: 12g
Recipe Notes:
Need a Nut-free Vegan Mac and Cheese? Try my Sweet Potato Mac n' Cheese recipe, or use my nut-free Vegan Cheese Sauce or Cauliflower Cheese Sauce recipes.
You could possibly use a nut other than cashews, such as macadamia nuts or blanched almonds, but keep in mind that substitutions might change the flavor. Be sure to taste as you go.
I love adding roasted vegetables to this dish to make it more of a complete meal. Try adding roasted broccoli and mushrooms for a more flavorful pasta dish.
For a baked Vegan Macaroni and Cheese, preheat the oven to 350ºF while you prepare the pasta and sauce. Pour the pasta and sauce into a casserole dish, along with any add-ins you like, and bake until the top looks dry, about 20 minutes. Serve warm.
Don't care for the extra spices? Feel free to leave out the chili powder, turmeric, garlic, or cayenne. I think they help give this recipe a more gourmet flavor, but you can keep it simple, too!
As always, if you make a modification to this recipe please leave a comment below letting us know what worked for you. We can all benefit from your experience!
—
Reader Feedback: Do you have another childhood favorite dish that needs a healthy makeover? Let me know in the comments below!