Instant Pot lentils are an easy way to add plant-based protein to any meal, and most varieties cook in just 9 minutes or less. Below you'll learn how to cook red, green, brown, and black lentils in your pressure cooker for perfect results every time.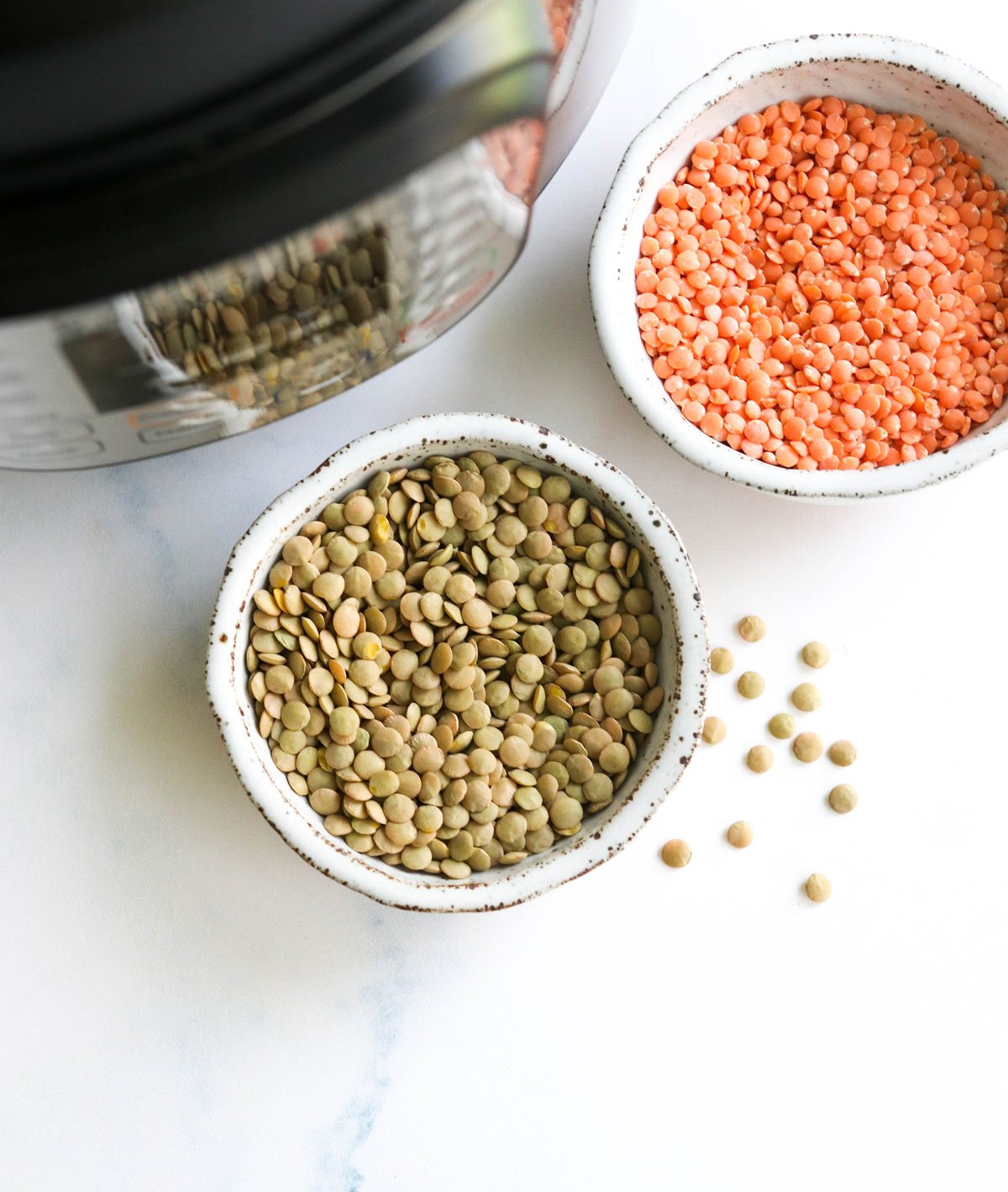 How to Cook Lentils in the Instant Pot
To cook lentils in the Instant Pot, you'll simply combine dry lentils and water. Then all you have to do is secure the lid, move the steam release valve to the "sealing" position (don't forget this, or your pot won't seal!), and press a button.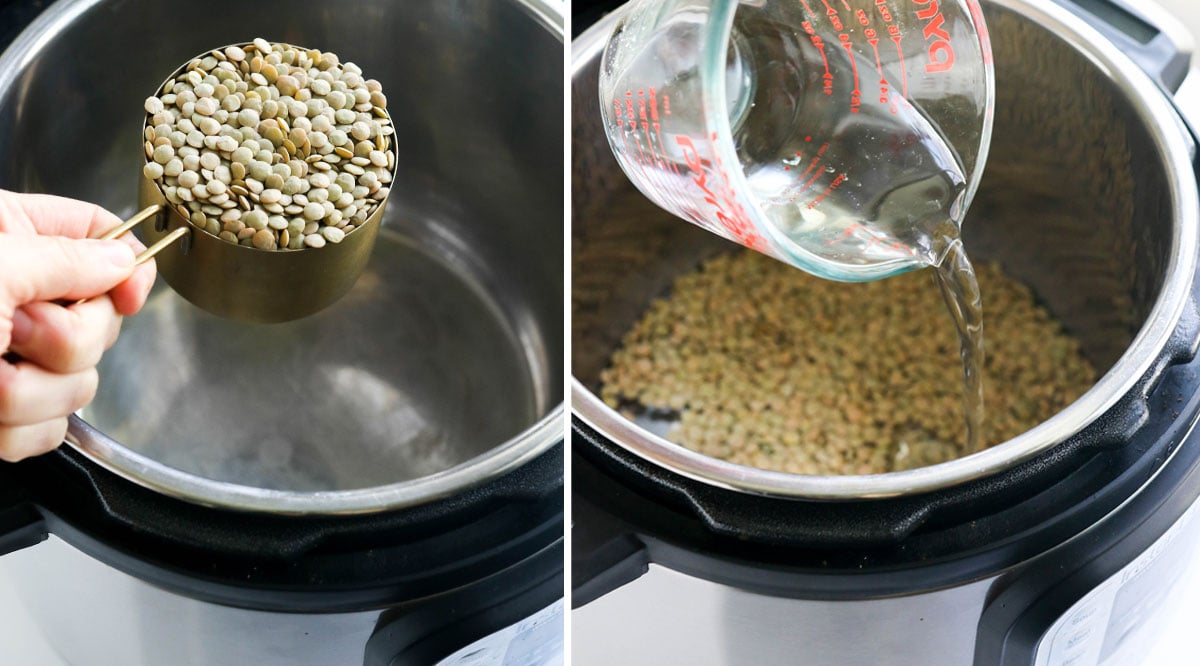 What I love about using an electric pressure cooker, is that you don't have to wait for a pot of water to come to a boil first, and you don't have to keep an eye on the pot as the lentils cook to perfection. The cooking process is completely hands-off!
How Long to Cook Lentils
Most lentils cook in just 9 minutes, with a quick release. Keep in mind that it can take up to 10 minutes for the pot to come to pressure, so be sure to factor in that extra time when planning your meals.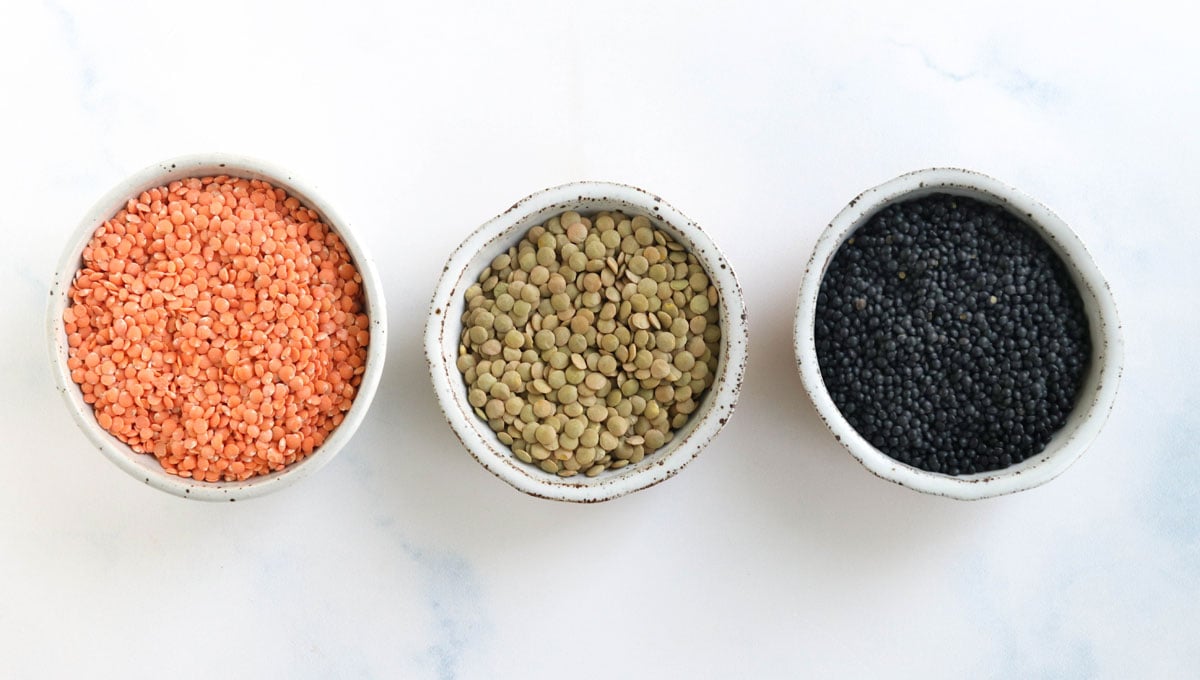 Here's how long different varieties need to cook:
Green lentils: 9 minutes (10 if you want them softer)
Brown Lentils: 9 minutes (10 for softer)
Black Lentils: 9 minutes
Red Lentils: 5 minutes or more (they are mushy regardless)
In each case above, I use a quick release when the cooking time is completed. That means I move the steam release valve to venting to release the pressure as soon as the screen reads LO:OO on my Instant Pot. If you don't hear the pressure cooker beep when it's done, it's okay if you don't release the pressure right away; the lentils will just be a little softer when you get around to them.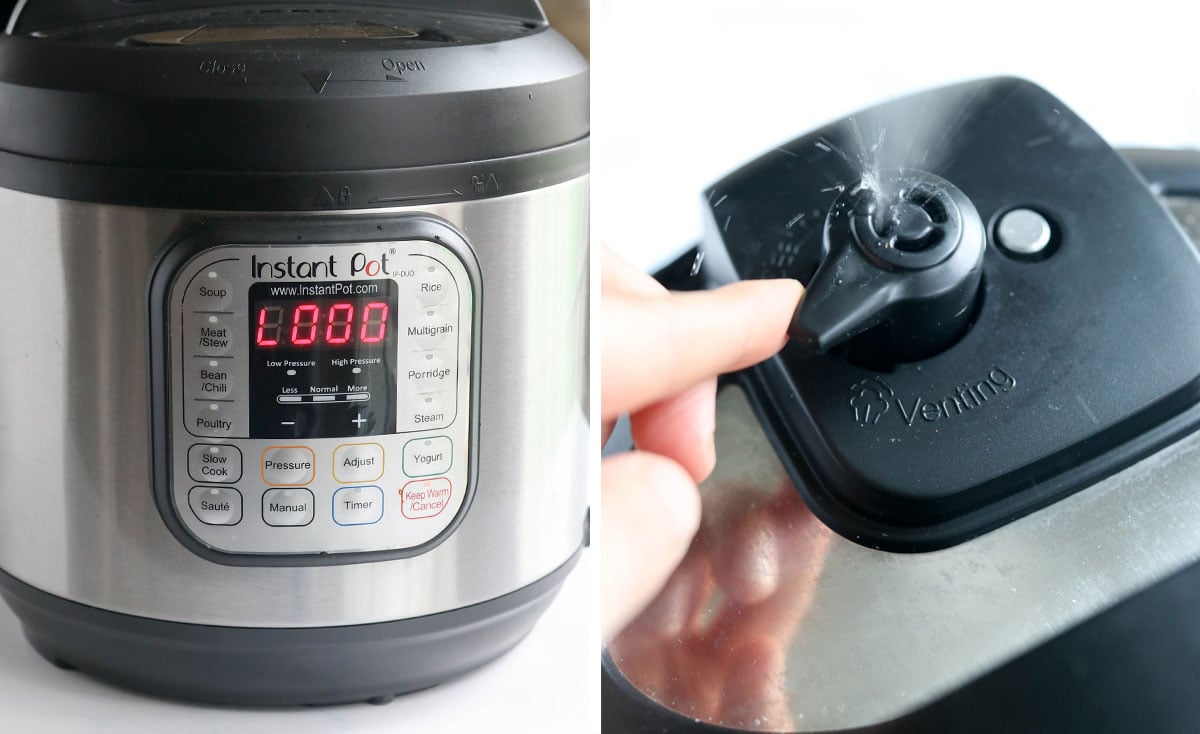 To see a demonstration of the quick release be sure to check out my How To Use Your Instant Pot tutorial, where I show you the 10 things you need to know about your Instant Pot in a quick 3-minute video.
Do Lentils Need to Be Soaked?
Lentils are quick-cooking and do not need to be soaked before you get started. They cook just as fast as my Instant Pot Black Beans, and are even faster than Instant Pot Chickpeas, but since no soaking is required, they are a quick & convenient source of plant-based protein.
How to Serve Lentils
The recipe below will teach you how to cook lentils on their own, so you can use them in a number of different ways as part of your meal prep routine.
Below you'll find some easy ways to serve the pre-cooked lentils.
Toss them with BBQ sauce for a vegetarian sandwich
Serve them over a salad for plant-based protein
Make this easy Lentil Salad
Stir them into a jar of marinara sauce for vegetarian spaghetti
Use them to make Vegan Meatloaf
To cook the lentils as part of a complete recipe, here are some easy recipe ideas to help you get started.
I hope this tutorial will help you get more comfortable with using your Instant Pot, and will make you more confident in converting any recipe for your electric pressure cooker, too.
How to Convert a Recipe for the Instant Pot
When I want to make a recipe in my Instant Pot, and don't have directions for it already, I usually look at the ingredient that will cook the longest, and use that cooking time as a starting point.
For example, if I want to make Lentil Bolognese in my Instant Pot, the green lentils will determine the cook time. In that case, I'd cook the lentil-based sauce for 10 minutes under high pressure, so that the lentils are tender. (I always err on the longer side of cooking lentils if they are cooking in a tomato sauce, as the acid in the tomatoes may slow down their cooking process.)
Can You Cook Lentils with Salt?
When cooking lentils in a recipe, I prefer to omit the salt until the lentils are 100% tender, as salt can sometimes interfere with the lentils softening. This is definitely the case when you cook lentils with soy sauce, so don't add soy sauce to a recipe until after the lentils are tender.
In my experience, this happens more often with pressure cooking than with stove top cooking, and it usually happens more often when an acidic ingredient is in the recipe, too, like tomatoes or lemon juice. So, keep that in mind when cooking with lentils, and add the salt at the end if you want to stay on the safe side.
How to Season Lentils
The recipe below will guide you on cooking plain lentils that you can use in any meal or recipe, but if you want to season them at the same time, here's my favorite combination for a taco-inspired flavor.
Per cup of dry lentils:
1 teaspoon cumin
1 teaspoon chili powder
1/2 teaspoon onion powder
1/2 teaspoon salt
When the lentils are done cooking, add a squeeze of fresh lime or lemon juice, and adjust the seasoning as needed to your taste. If you use this seasoning with red lentils, their mushy texture reminds me of refried beans! You can use the Instant Pot's sauté function if you want to cook some chopped onion and garlic first, then you can add in the lentils and water and cook them together using the timing below.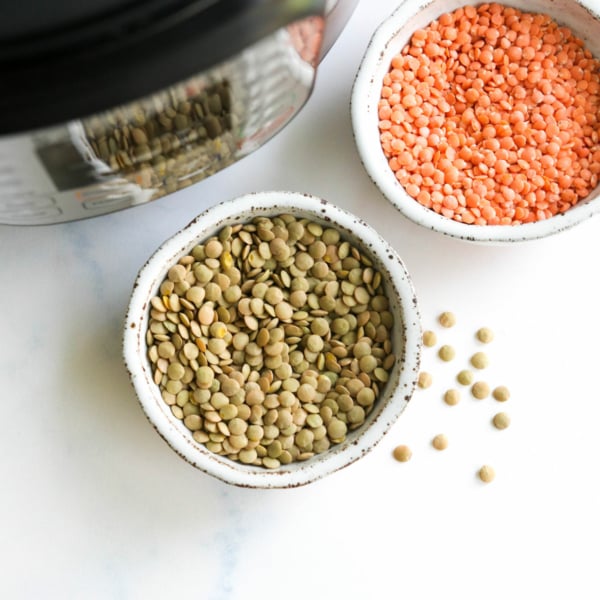 Instant Pot Lentils (in 9 minutes or less!)
Here's how to cook lentils in the Instant Pot, including green, brown, black, and red lentils. You can use these as part of your meal prep for the week!
Equipment
Ingredients
1

cup

green, black, or brown lentils

(see notes for red lentils)

1.5

cups

water

1/4 to 1/2

teaspoon

salt

(optional)
Instructions
Combine the lentils and water in the bottom of the Instant Pot. You can add up to 1/2 teaspoon of salt if you want them seasoned, but keep in mind that they may turn out a little more firm that way. Don't season with salt until the end of the cooking cycle if you want to guarantee soft lentils.

Secure the lid and move the steam release valve to Sealing. Press the Manual or Pressure Cook button to cook at high pressure for 9 minutes. (They will still have a little bite to them this way; cook for 10 minutes for softer lentils.) It will take 10 minutes for the pot to come to pressure before the cooking cycle begins, so the screen will just read "On" until then.

When the cooking cycle completes, immediately move the steam release valve to Venting to release the pressure right away. Make sure your hand isn't over the steam release valve, to avoid the hot steam touching your skin. When the floating valve in the lid drops, the pressure is released and it's safe to open the lid. (If you forget to release the pressure right away, it will still be okay-- your lentils will just be softer when you remember to go check on them.)

Stir the lentils and make sure they are tender to your liking. You can always add an extra 1/2 cup of water and pressure cook them again for 2-3 minutes, if you want them softer, but they should be done at this point. There shouldn't be too much liquid left in the pot, so you can use them right away without draining them.

Use a slotted spoon to scoop them out, then serve warm. For serving ideas, be sure to check out the post above! You can store cooked lentils in an airtight container in the fridge for up to 1 week.
Notes
Red lentils cook in just 5 minutes at high pressure with a quick release. Keep in mind that red lentils will have a mushy texture no matter what, so you can cook them longer if making a soup or curry with them. They will completely dissolve into a soup and will act as a thickener if you cook them for 10 minutes at high pressure, like in my Curry Chicken Soup recipe.
Nutrition
Calories:
159
kcal
,
Carbohydrates:
27
g
,
Protein:
12
g
,
Fat:
1
g
,
Saturated Fat:
1
g
,
Sodium:
152
mg
,
Potassium:
430
mg
,
Fiber:
14
g
,
Sugar:
1
g
,
Vitamin A:
18
IU
,
Vitamin C:
2
mg
,
Calcium:
28
mg
,
Iron:
3
mg
Nutrition information is for 1/4 of the recipe. This is automatically calculated using generic ingredients, so it's just an estimate and not a guarantee.
More Instant Pot Recipes
To get the most out of your Instant Pot, be sure to check out The Fresh & Healthy Instant Pot Cookbook, where I walk you through the recipes step-by-step and teach you how to cook complete meals, all in the same pot. Or check out the other tutorials on my website below.
If you try this cooking method, please leave a comment below letting me know how it works for you. And if you try any modifications, I'd love to hear about those, too. We can all learn from your experience!
–
Reader Feedback: What's your favorite thing to cook in the Instant Pot?